YOUR AMBASSADOR OF PEACE PROJECT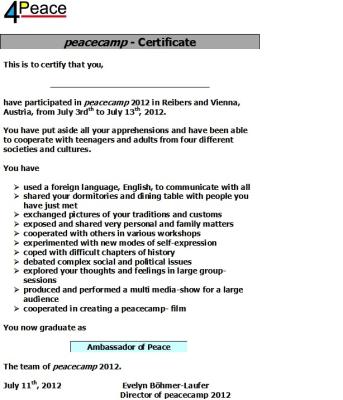 Your own AMBASSADOR OF PEACE PROJECT is the condition of your participation in the
Ambassador of Peace Exhibition and Conference
due to take place in Vienna, Austria, in July 2014.
Your project should be realized in the months preceding the exhibition.
Your first precise outline/draft/description must be presented not later than September 30th, 2013. You will then have time ot actually realize your project and to choose your own way to present it at the exhibition. If your project is a group project, you may choose the person who you delegate to present and represent your work at the conference.
A Jury will choose 40 projects (10 from each group) from all the proposals presented to us. These projects will be the focus and core event exhibited at the Exhibition and their authors will be invited to the conference.
Your AMBASSADOR OF PEACE PROJECT should reflect your own personal way to act as an Ambassador of peace. It can be a piece of work of any kind in any mode you choose - a peace-project in which you are involved, a peace project that you have initiated, peace thougths reflected in your thoughts or writings (a collection of your own poems, songs, a play, a piece of music of your own, a film, a documentary,) or in your actions.
In this first stage you are requested to outline/describe what you plan to present at the conference and to send an example that shows what exactly you plan to do as a project and how you are going to show this at the Conference. . .
Further instructions will be given to you in the course of time.
Please send your project-drafts/outlines/description not later than September 30th, 2013 to
bohmer@utanet.at
0 comments | Comment